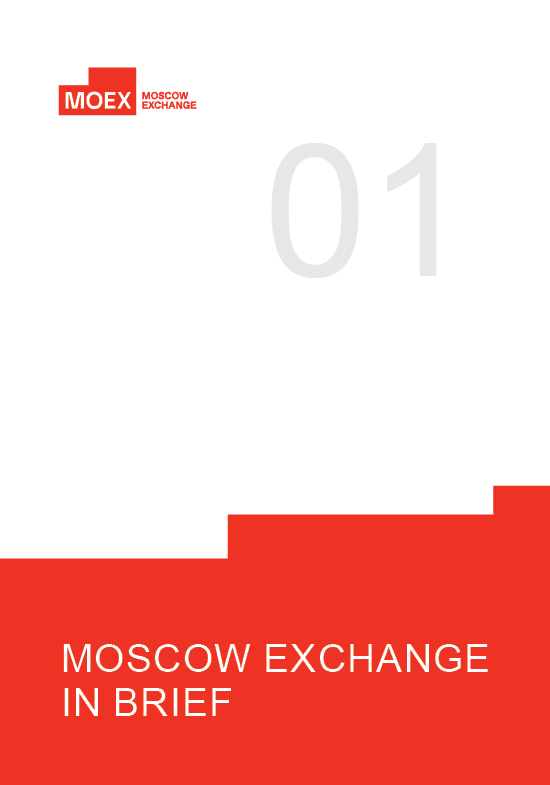 Moscow Exchange Group (the Group) operates Russia's only multifunctional trading platform for equities, bonds, derivatives, currencies, money market instruments and commodities.
The Group is comprised of:
Public Joint-Stock Company Moscow Exchange MICEX-RTS (the "Moscow Exchange", the "Exchange" or "MOEX" which operates the Equity & Bond Market, Money Market, Derivatives Market as well as FX Market and Precious Metals Market;

NCO JSC National Settlement Depository (NSD), the central securities depository;

JSC Non-Banking Credit Institution – Central Counterparty National Clearing Center (CCP NCC, or NCC), operating as clearing house and a central counterparty for all MOEX's markets;

JSC National Mercantile Exchange (NAMEX), which operates the Commodities Market;

MOEX Innovations, which develops innovative technologies and works with fintech start-ups.
Moscow Exchange holds majority stakes in all key subsidiaries, including a 100% stake in NCC, a 99.997% stake in the NSD and, directly and indirectly, a 88.25% stake in the NAMEX.
Moscow Exchange was formed in December 2011 from a merger of Russia's two main exchange groups: MICEX Group, the oldest domestic exchange and operator of the leading equity, bond, foreign exchange and money markets in Russia; and RTS Group, which operated Russia's leading derivatives market. This combination created a vertically integrated exchange for trading of all major asset classes. In February 2013, Moscow Exchange completed an initial public offering on its own platform (ticker: MOEX). As of 31 December 2021, the company's market capitalization was RUB 348 billion, and the free float was 63%.